I know, I know, I've been neglecting my little blog project. So, to spruce things up, I've decided....to add....Cinical Diagnosis of the Month! ...::::(golf claps)::::.... Now, by no means am I a doctor (at least not yet, and not of the medical/human variety). So please, don't take everything I say as absolutely perfect. I do think I do a decent job of researching these things, but there's a lot of info, and it's not always easily understood or characterized. So, we'll start slightly simple.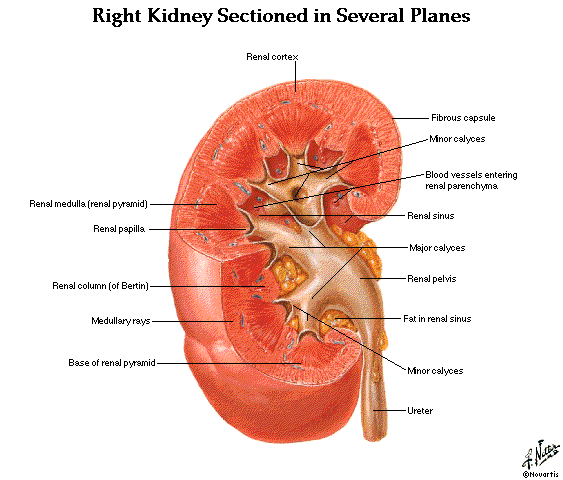 KIDNEY STONES. Got a sharp, stabbing, radiating pain in your lower back, maybe towards one side or the other? Does it ebb and flow? Change in urination? Change in color (brown/red/pink instead of clear/yellow)? Fever, chills, vomiting, diarrhea, nausea, these are all possible symptoms of kidney stones. There are other symptoms, but for the most part, these are the most frequent ones felt by sufferers of this poorly understood phenomenon.
Frequency of kidney stones in the US has been increasing since the 1970's, from roughly 4% of the population suffering from these friendly little rocks, to now a bit over 5%. The stones are not ingested; the human body creates them. Individuals with a family history of stones (uric acid included) are at a higher risk, as are people who've had them before. If you've had a stone in the past, you're about 7 times more likely than the average bloke to get another one. Fun.
Most often, the stone will be passed on its own. Many stones are passed every year without anyone knowing. Small ones cause little to no problems. However, if you happen to have a pointy or large stone, problems are more likely. As the stone migrates from the kidney to the ureter, down to the bladder, and out through the urethra, the tissues of these various organs and vessels may become inflamed, many times leading to UTI's. Pain is most often felt as the stone leaves the kidney, resulting in low back pain, and possible bladder/groin pain as the stone leaves the bladder.
If you think you have a kidney stone, please contact your physician. If it's intense pain that isn't abating, or you can't wait for an appointment, go to the emergency room. Most likely a CT scan or x-ray will be taken to determine the size and location of the stone. If it is too large to be passed naturally, various techniques may be used to pulverize that stupid pain-inducing rock.